Headlines:
1. U.S. Deficits + Debt = Already Massive…Prepare For "MASSIVE-ER".
2. $1 Trillion Here…$1 Trillion There…It's All Monopoly Money Now.
***********************************
With All The Federal Dollar Giveaways Announced In The Past 24 Hours…
1. Helicopter Money
2. April 15 Tax Payment Deferrals
3. Mortgage Payment Deferral
4. Payroll Tax Cut [likely]
5. Airline Bailout
6. Boeing Bailout
7. "Fill In The Blank" Bailout
….One Might Postulate That The U.S. Federal Budget Was In Stellar Shape.
Actually…It's Never Been Worse…But Nobody Seems To Care…At Least For Now.
***********************************
Consider The Following Charts…
First Of All…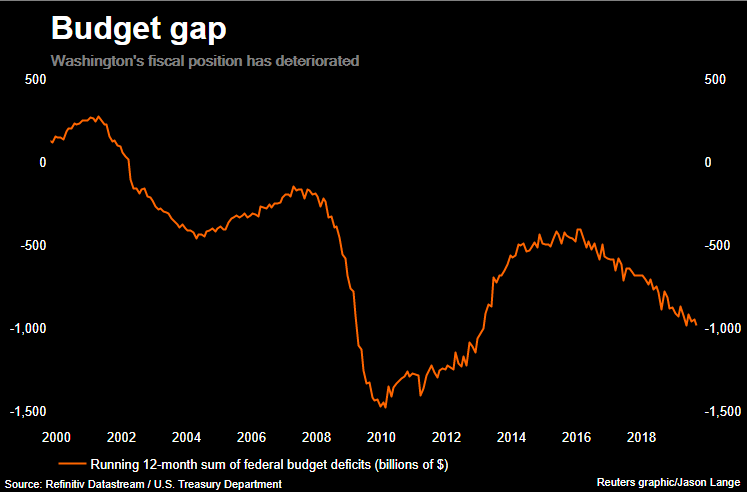 Amazingly…The U.S. [on a 12 month rolling basis] Has NOT Produced A Budget Surplus Since Mid/Late 2001.
Just Ponder That For A Moment. What Were You Doing In 2001?
***********************************
Second Of All…

The Absolute Amount Of Debt…Since 2001 Has Risen 350% To A Staggering $22.5T++.
***********************************
Thirdly…The U.S.Economy Has Also Grown Since 2001…So The Debt/GDP Quotient Must Also Be Considered.

It's Essentially Doubled Since 2001…But Has Stabilized…At A Very High Level…Since 2014.
That'll Soon Change To A Much Higher Number…As The Economic Impact From The Corona Virus Will Dramatically Effect The Quotient…Numerator Up Big/Denominator Down Big.
***********************************
So…There Is A Boatload Of Debt…But Then…If You Are Going To Gorge On Debt…It Might As Well Be Cheap…And It Certainly Has Been…At Least For Large Multi-Nationals.

The Federal Funds Rate Weighted Average Since 2001 Has Approximated Just 2%…The Lowest 20 Year Weighted Average In U.S. History.
***********************************
And While Money Is Cheap To Borrow…Demand For The Super Low Yielding Debt Seems Almost Infinite.
Hence…The Deficit Spending Policies Of The U.S. Congress [whether under Democrats or Republicans] Are Effectively Unleashed…With No Real Limitations.

And Not So Coincidentally…Much Of The Demand For This Congressionally Produced Debt Is Satisfied By The Federal Reserve.
BTW…The Fed Pays For The National Debt With Newly Printed Dollars And Is Not  Even Compelled To Ask For Permission…From Anybody.  The Discretion Is All Theirs.
***********************************
Thus…The Interests Of The U.S. Congress + The Federal Reserve Absurdly Coalesce…Creating A Debt Gorged Bureaucracy.
Making Matters Even More Conflicted…The Federal Reserve Returns Its Interest Payments To The U.S. Treasury…Effectively Reducing The Already Depressed Interest Costs [set by the same Federal Reserve].
These Convoluted Financial Operations Are Softly Endorsed By The 2 Major Credit Rating Agencies…Moodys + Standard + Poors…Both Of Which…For Some Bizarre Reason…Believe That Monetizing Federal Debt Is A Legitimate Role For A Central Bank.
***********************************
And Still…Despite This Triangulated Den Of Thieves…The U.S. Economy Has Been Brought To Its Knees By An Invisible Viral Enemy.
The U.S. Population Is Almost Universally Freaking Out While The Federal Government Concocts New Tactics To Give Away Federal Dollars To John Q. Public…In Order To Blunt The Economic Hurt.
Treasury Secretary Mnuchin Wants To Give Each Adult At least $1000…Maybe $2000…This Politically Driven Tactic Is Borderline Laughable …Sort Of Like The Obama Giveaway Years Ago.
And It Seems Those $1000 Checks Will Probably Be Quickly Spent By Hoarding Households…On Canned Goods + Toilet Paper…As Faith In The Prez Donny T's Response To The Crisis Is Miserably Low.
***********************************
And So It Has Begun…The Greatest Monetary Cage Fight Of All Time.
The U.S. Debt Generating Machine [aka U.S. Congress]
Vs.
The Central Bank Debt Consuming Machine [aka Federal Reserve].
Who Wins…Who Loses?
McConnell + Pelosi Printing As Many Zeroes On Spending Bills Until The Black Ink In Their Pens Runs Dry.
Vs.
The Federal Reserve… Desperately Stockpiling Green Ink For Printing Dollar Bills As Quickly As Possible…To Account For All Those Congressional Zeroes.
It Ought To Be A Real Slug-Fest…But In The End…It Is Likely That Neither Will Win.
Because This 20 Year Era Of Monetary "High Jinks" Just Might Be Concluding…In A 5+ Week Capital Markets Bloodbath…That Has Devastated The Frail U.S. Economy…Built On A Mountain Of Debt.

**************************************
Contact The Author: Dominate@GlobalSlant.com