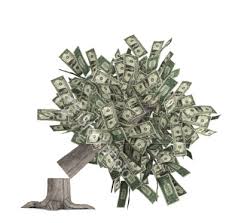 Headline:
Is It Even Possible To Chop Down A Money Tree?
**********************************
That Infamous Marty Zweig Quote = "Don't Fight The Fed" Has Never Been So True.
Global Central Banks Are In Total Control of The Capital Markets and They Have To Love It. The Power Must Be So Intoxicating.
Every Monetary Policy Move They Make…Every Verbal Utterance = The Markets Love = Lower Bond Yields + Higher Equity Prices.
Plus Asset Price Distortions Are Not Just Ignored…They Are Celebrated…As QE Is The Money Tree That Endlessly Produces.
Robust GDP Has Now Become An Afterthought. QE = Better Than Economic Growth Anyway…According To The Capital Markets.
It seems like it will NEVER END.
Even The Biggest Downside to QE [currency debasement] Has Been Rectified As Central Bankers Simultaneously QE [U.S. + EU + UK + Japan + Switzerland + Canada + China]. It's All Relative Now.  The Currency Concern Has Diminished.
Moving Forward All Major Central Banks Will Only Universally Adjust Policy In The Same Direction.
**************************
Still…What Is The End Game…That Is…If There Is One?
The Parabolic Equity Markets Just Keep Thrusting Higher As Acute Corporate Managements Have Figured Out How To "Play This  Game"…that is…Maximize Earnings Per/Share Without Much Revenue Growth By Continuously Repurchasing Their Highly Priced Shares [usually with borrowed money at a yield lower than the common stock] and Endlessly Cutting Overhead.
There is a Bull Market In Income Statement Optimization and Corporate Managements Must Not Even Adhere To Established Accounting Standards Anymore i.e. Non-GAAP = The New Accounting Normal.
Add in The Paradoxically Endless "1-Time" Restructuring Charges and The Corporate Profit Rainbow Gets Even Brighter.
Bad = Good. Good = Great. Great = Awesome. Awesome = Nirvana. Capital Markets Have Taken A Que From Central Banks And Have Also Transformed Into Money Trees Without Risk.
99.9% of John Q. Public Could Not Even Define A Central Bank. Nor Does He Care…Ignorantly Enabling A Most Radical Economic Experiment That Morphs Larger Every Week…Singularly Hell Bent On Stoking Inflation Toward A Random 2% Target…With Most Of The Globe's Wealth At Stake.
Plus "Thought-Leaders" In The Know, such as Bridgewater's Dalio, postulate about a "Beautiful [Central Bank] Balance Sheet Normalization".  El Erian Can Only "High-Five" The Idea.  
Everybody = "All In".
**************************
On The Other Hand…What Could Change This Ecstatic Capital Market Status Quo?
There Are Really Only 5 Explanations [beyond an unpredictable geo-political event such as 9/11]:
1. Inflation =
Somehow Gains Traction + Quickly Leaps…Relieving The Globe of QE's Argued Necessity.
With QE Quickly Exterminated…The Capital Market Dominoes Logically Fall. Game Over For Financial Assets. It Would Be Brutal.
2. Deflationary Forces =
Build Momentum & Organically Drive Down GDP.  The Basic Idea = The Economy Becomes Effectively Immune To QE [after 8+ years of treatment]  & Initiates A Belief That QE = Part of The Economic Problem Rather Than Part of the Solution.
The Capital Markets Response, In This Case, Would be More Dramatic Than The Inflationary Impact Described Above.
3. Central Bank Powers Emasculated =
If The Power to Print Currency + Buy Assets Were Removed or Required Legislative Approval [somewhat linked to #2].
Though The ONLY Way To Lose Power, It Seems, Would Be To MASSIVELY ABUSE THEIR ALREADY VERY BROAD POWERS = A TOTAL FORGIVENESS OF ALL ACCUMULATED SOVEREIGN DEBT = THE GREAT PIVOT. Capital Markets Would Frown On This. The Response = Likely Nasty.
4. Stock Market Crash Leads To Economic Slow-Down =
There Is Plenty Of Well Documented Fuel To Support This Hypothesis…But The Igniting Spark Has Not Yet Emerged.
Very Quickly All Of That Share Repurchase Capital, Expended By Corporate Board's, Would Be "Out Of The Money" and Sharply Questioned/Re-Directed Moving Forward.
5. Digital Crypto-Currencies =
Like/Trust Them or Not They Are An Emerging Transactional Force.
And They Offer The Massively Attractive Feature of Finite Supply…Unlike Fiat Currencies. This Is Just Another Iteration Of The Contemporary Technology Revolution.
It Is A Slow Moving Train But It Is A Considered Alternative To Existing Currencies As We Know Them.
**********************************
Contact The Author: Dominate@GlobalSlant.com