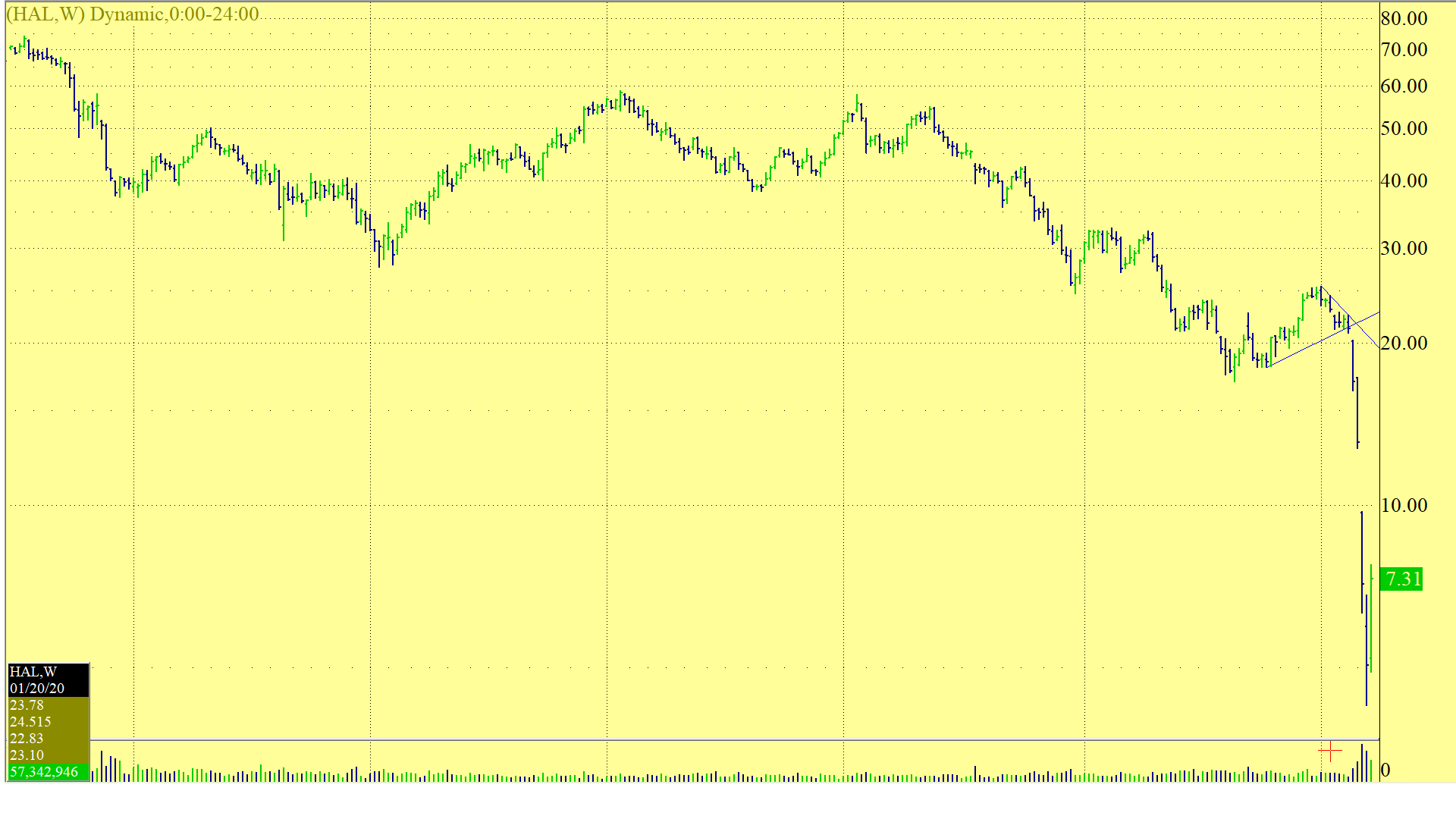 Headline:
Tardy To The Party…Again
****************************
According To Standard And Poor's…Halliburton Is An Investment Grade Credit…
S&P Global Ratings
Halliburton Co. Rating Lowered To 'BBB+' On Expected Weaker Credit Measures Due To Lower Prices; Outlook Negative
26-Mar-2020 12:44 EDT
View Analyst Contact Information
Table of Contents
…We anticipate the oilfield services industry will experience material weakness due to capital spending cuts announced by oil and gas exploration and production companies, driven by sharply lower oil and natural gas prices.
…Oil prices have declined significantly after the OPEC+ alliance failed to reach an agreement to limit supply, at a time when there are significant reductions in global demand due to the spread of the coronavirus.
…We forecast that Halliburton Co.'s credit measures will be weaker than our expectations for the 'A-' rating through 2021.
…We are lowering our long-term issuer credit rating and issue-level ratings on the company's unsecured debt to 'BBB+' from 'A-'. We maintain our short-term issuer credit and commercial paper rating at 'A-2'.
…The outlook remains negative.
****************************
That This Is Oilfield Service "Giant" Halliburton Makes No Matter…So Many Other Companies…Across Industries…In Similar Situations.
That Is…A Brutal Cash Flow Dilemma + A Credit Rating That Is NEVER Tough Enough.
****************************
Equity Prices Lead Credit Downgrades…ALMOST ALWAYS…As In This Case.

A Tardy Downgrade = Standard Operating Procedure For Standard And Poor's.
Still…Maintaining Investment Grade…Not So Sure About That.
****************************
For Now…Equity Investors Have Voted That The Business Is Challenged Enough To Cut Halliburton's Valuation By 88.33% In About 2 Years.
But Somehow…Despite The High Hurdles In The Oilfield Industry…Its Ability To Refinance + Service Its Debt Is Generally Unencumbered …And Considered…Essentially…A Prime Credit…At Least According To Standard and Poor's.

****************************
Ironically…One Of The Few Buyers Of Halliburton's Debentures Just Might Be Your Federal Reserve…With Their Recently Initiated Corporate Bond Buying Program.
And Halliburton Would Currently Qualify For The Portfolio…Since It Is Still "Investment Grade".
Of Course…Just A Matter Of Time Before The Fed Broadens That Qualification To Less Than Investment Grade Credits Too…aka "Junk"…As A Record Number Of Of BBB Credits Are On The Cusp Of Downgrade To "Junk."
****************************
Contact The Author: Dominate@GlobalSlant.com