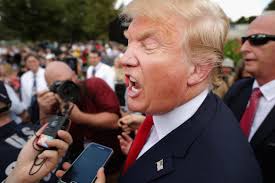 Headlines:
Quantitative Easing = Currency Debasement
Suppression Of Interest Rates = Currency Debasement
Only Problem = U.S. Federal Reserve = Head Of "The Currency Debasing Club"
****************************************
In The United States The Traditional "Mouthpiece" For U.S. Dollar Chatter = Treasury Secretary.
That's All Changed With President Donny T.
Consider His Tweeted Comments From Last Week…
China, the European Union and others have been manipulating their currencies and interest rates lower, while the U.S. is raising rates while the dollars gets stronger and stronger with each passing day – taking away our big competitive edge. As usual, not a level playing field…

— Donald J. Trump (@realDonaldTrump) July 20, 2018
….The United States should not be penalized because we are doing so well. Tightening now hurts all that we have done. The U.S. should be allowed to recapture what was lost due to illegal currency manipulation and BAD Trade Deals. Debt coming due & we are raising rates – Really?

— Donald J. Trump (@realDonaldTrump) July 20, 2018
****************************************
In This Case…Donny T. Is Partially Correct Because Interest Rate Suppression + Quantitative Easing [which is what he is specifically referring to]…For Many Reasons…Are Currency Depressing.
China + EU + Japan…etc. Are Guilty As Charged…Though They'll Never Formally Admit It.
****************************************
However There Is Another Country Just As Culpable.
That Country Is Donny T.'s Own United States.
And Despite Moderate Rate Increases + Tiny Central Bank Balance Sheet Reductions…The U.S. Is Still Fully Engaged In Monetary Suppression.
****************************************
Furthermore, The Primary Problem…Vis-A-Vis Relative Currency Valuation…Is The Currently Divergent Path Of Monetary Policy By Most Developed Economies + China.
The United States = Moderately Tightening.
China + EU + Japan etc = Full Throttled Monetary Easing.
And Though The Interest Rate Differential Between The United States and EU/Japan Is Now Especially Wide…And Seemingly The Primary Cause Of A Stronger U.S. Dollar…There Are Other Factors That Also Play Into A Currency's Value:
…Budget Deficits/Surplus
…Current Account Balances
…Inflationary Expectations
…Political Stability
…U.S. Dollar As Global Reserve Currency
****************************************
Why The Desire For A Weaker Currency?
2 Primary Reasons:
i.  It Stokes Inflation…Of Which Central Bankers Are Obsessed.
And Ironically…As Discussed In A Prior Post…There Is Plenty Of Inflation. It Is Just Being Willingly Ignored By Global Central Bankers.
ii. It Improves The Cost Competitiveness Of A Country's Exports…Thereby Increasing Domestic Economic Growth.
****************************************
So The Unspoken Objective Of All The Developed Economies + China Is To Suppress Domestic Interest Rates…Primarily Via Central Bank Policy.
It Helps To Stimulate The Domestic Economy While Also Depressing It's Currency…To Aid In Export Competitiveness.
It Sounds Like An Economic Holy Grail But It Is Not…For So Many Reasons Discussed In Prior Posts.
****************************************
Thanks To Donny T.'s Recent Tweets…A Bright Light Is Being Shone On A Very Large Problem That's Been Plaguing The Currency Markets For Quite Some Time.
That Is…All Developed Market Currencies Cannot Be Concurrently Weak…As Discussed In An October 2014 Post…
At Least One Country's Currency Must ALWAYS "Pay The Price" …With A Higher Relative Value…Thereby Marginally Hamstringing   Export Competitiveness and Inflationary Targets

Right Now That Country Is The United States As Its Economic Growth Is Generally Robust…Far Outpacing Both The EU and Japan …But… Naturally Trailing Emerging Economy China.
****************************************
Is There A Fair And Legitimate Fix For This Currency Problem?
Not Really….Unless The China + EU + Japan Get On The "Tightening Train" Sometime Very Soon…And That Is Highly Unlikely.
The Most Logical Solution Would…Unfortunately…Result In Severe Financial Market Pain.
Specifically….Abolishing Quantitative Easing While Simultaneously Linking Domestic Interest Rate Policies To GDP.
****************************************
Because In This Increasingly Complicated and Intertwined Economic World…
MOST CURRENT ECONOMIC CHALLENGES LEAD BACK TO CENTRAL BANKS AND THEIR UNIVERSAL RELUCTANCE TO RELEASE CONTROL OF THE GLOBAL FINANCIAL MARKETS THEY SEIZED IN EARLY 2009…VIA POLICIES OF FORCED INTEREST RATE SUPPRESSION AND QUANTITATIVE EASING…AS WELL AS MANY OTHER MORE NUANCED TACTICS [i.e. U.S.'s IOER] TO INCREASE AN ECONOMY'S  LIQUIDITY/MONEY SUPPLY.

****************************************
Their Intended Economic Distortions Are Quite Far Reaching.
And After 9+ Years Of Hyper Monetary Stimulation…The Primarily Liberated Currency Markets Are Still Struggling To Adapt.
Donny T.'s Tweeted Currency Comments Demonstrate That Powerful Politicians Are Increasingly Frustrated With The Financial Exaggerations Wrought By Excessive Global Liquidity…Which Does Offer Downside Risks…Not Typically Considered In The Mainstream Public Narrative.
****************************************
Ironically…The Only Sovereign With Direct + Unadulterated Control Of Their Currency's Value = CHINA.
All Others Freely Trade…Merely Influenced By Monetary Policy.

And This May Prove To Be Western Central Bankers + The Bank Of Japan's Ultimate Achilles Heel.
Because Despite All Of The Heated Debate And Rhetoric On Tariffs + Trade…Their Impact, If Ultimately Implemented, Can Be Quickly Mitigated With A Swiftly Devalued Currency i.e. 10% Tariffs Are Completely Nullified By A 10% Currency Devaluation…Which Means…
HUGE ADVANTAGE = CHINA
How Then Will Developed Markets React?
Contact The Author: Dominate@GlobalSlant.com