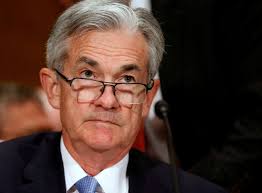 Headline:
Powell Is A Different "Bird"…It's About Time.
*****************************************************
Jerome Powell, Chairman Of The Federal Reserve, Has Played It Pretty Cool For A While…Since Stepping Into His Current Role In February '18.
Perhaps His Most Remarkable Achievement, Thus Far, Is His Public Attitude Toward The Equities Markets…That Is…He Does Not Seem To Shape His Commentary To Appease Stock Investors…As His 2 Predecessors [Bernanke + Yellen] Most Certainly Did…Despite Sitting Around The Same Decision Table With Both Of Them…Biding His Time.
His Measured Remarks About The U.S. Economy Are Especially Refreshing As He Appears To Be Well Aware Of The Maturity Of The Economic Cycle…And The Associated Risks Created By A Decade Of Debt Monetization + Interest Rate Suppression + Quantitative Easing.
*****************************************************
Still…The Expansion Does Not Have To Suddenly End…As He Indicated This Past Week…"I Do Believe Our Economy Can Grow And Grow Faster."
However A Sudden End Is An Especially Distinct Possibility…Given The Well Documented Excesses Of Private + Public Debt That Bernanke + Yellen's Federal Reserve Policies Fanned.

And Powell Is Acutely Attuned To The Perils Of Excessive Debt [considering his experience at The Carlyle Group…A Private Equity Titan Specializing In The Application Of Leverage To Capital Structures].
Further…After A Decade Of Easy Money…Corporate Balance Sheets Are Vulnerable To The Stresses Of Additional + More Expensive Debt Capital [i.e. 50% Of Corporate Investment Grade Debt = BBB…One Simple Downgrade From Junk Status…Ironically Addressing The Current Shortage Of High Yield Supply.]
*****************************************************
In The Meantime, Despite Considerable Pressure From His Appointer [Prez Donny T.] And Contrasting Stimulative Policies From The ECB's Draghi + BoJ's Kuroda [i.e. U.S. yield curve flattening = attributable to Powell's moderate + deliberate rate increases on the short end of the yield curve neutralized by extremely muted global inflation expectations on the long end]…Powell Appears To Be Staid + Unfazed.
He May Even Actually Realize…And Accept…That The Extra-Ordinarily Easy Monetary Policies Of The Past Decade Must Be Neutered…Once And For All…Placed In Very Long Term Storage.
Why? Well…Because He Might Be Resigned To The Idea That These Policies…Specifically…Quantitative Easing…Have Already Sewn The Seeds Of Another Dramatic Economic Reset Downward…A La 1999-'00 & 2008-9.
*****************************************************
And If That Reset Does Indeed Occur…How Will He React?
Will He Panic & Re-Open The Monetary Fire-Hoses?
Maybe…But I Doubt It.
Powell's Calm Demeanor And Market Based Experiences, Versus Bernanke/Yellen's Academic  Backgrounds, Likely Suggest More Of A Fine Spray…Interest Rate Cuts NOT Accompanied By The Enormously Price Distorting Quantitative Easing Program…Of Which…The Financial Markets Are Definitely Not Prepared.
Contact The Author: Dominate@GlobalSlant.com