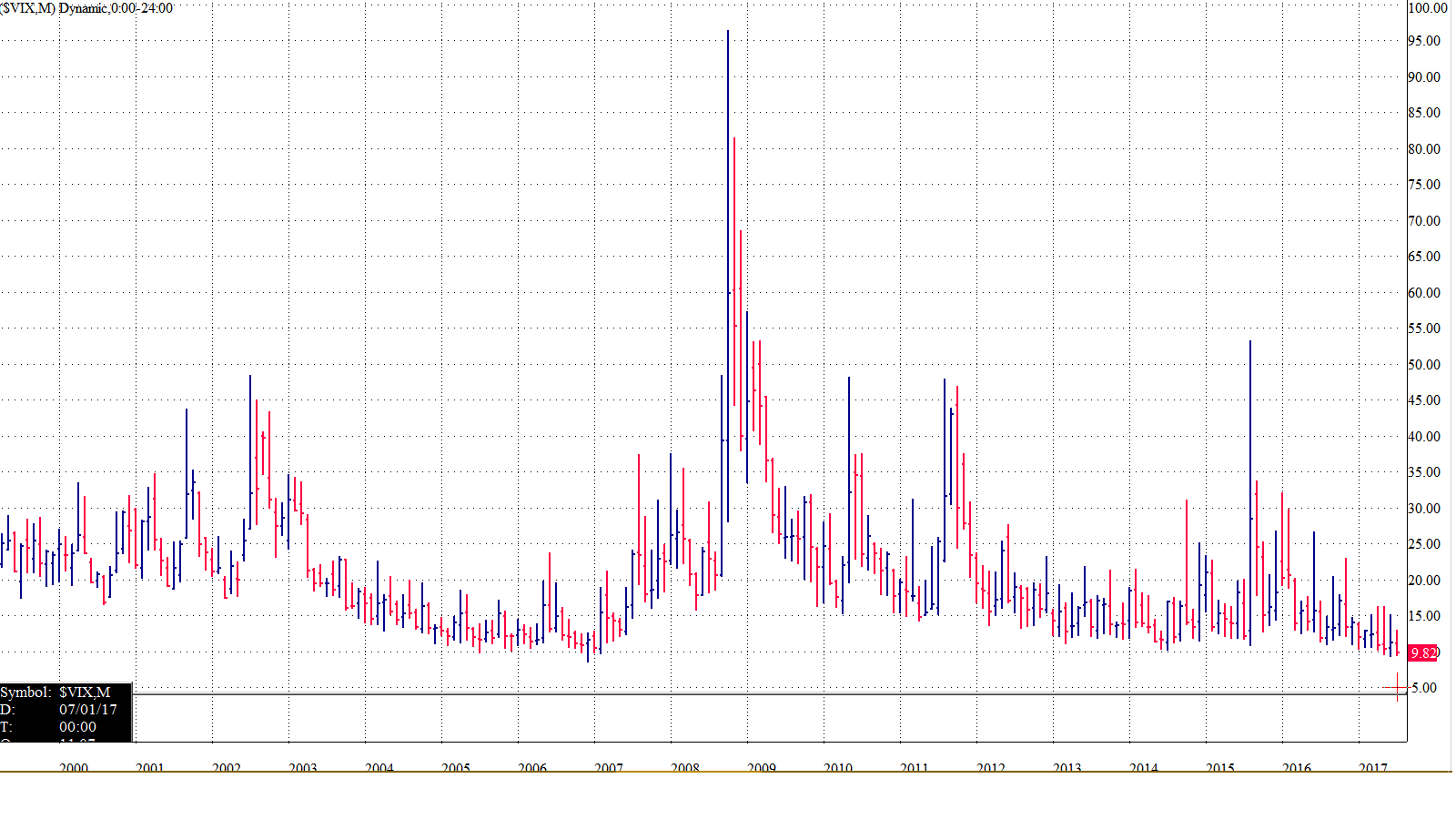 Headline:
Low Level VIX Indicates Anxiety Rather Than Optimism
*****************************
It has been widely reported that the suppression of the VIX indicates EXTREME INVESTOR COMPLACENCY & OPTIMISM.
However The, Recently Sustained, Low Level VIX Ironically Indicates SIGNIFICANT INVESTOR ANGST.
*****************************
The Angst = Tied To The Idea That Central Banks Will Never Fully Release Their $18T QE Grip On Global Capital Markets…And That Is Both Unprecedented + Scary To Most Professional Investment Actors…As Traditional [ZIRP] + Non-Traditional [QE] Monetary Stimulus Levers Are Failing To Ignite Respectable Levels Of Both Global Economic Growth and Inflation…Even After 8+ Years of Monetary "Pedal To The Metal". Yet Equity Prices Thrust Ever Higher.
Because for all of the talk that the VIX has been at these low levels before [which = true] it has NEVER straddled 10 +/- before without the benefit of an aggregated $18T QE Bump. Excepting that staggering amount of stimulus Equity Markets would be Lower and the VIX would be Higher.
Thus, to a great extent, the currently Low Level VIX = A Volatility Illusion…Artificially Concocted By $18T in newly minted currency.
*****************************
So Rather Than Relying On Their Own Analysis/Intuition, Portfolio Managers Are Collectively Adhering To Central Bank Policy Messaging…That Is…Asset Prices + Financial Markets May ONLY Move Upward.
There Is Also Another Subtle Central Bank Charge = Very Little Appetite For Capital Draw-Downs…Adding A Further Sense of Urgency To Their Buying.
Amplifying The Central Bank Directive Even More = Efforts to Effectively Compete Against Passive Indices.
******
It must also be noted that most Professional Portfolio Managers Are Well Aware/Somewhat Fearful Of The Distorted VIX and Realize That QE Driven Price Anomalies Must Eventually Cease/Reverse…But Presently/Reluctantly Follow "The Herd".
******
Of course…As The Equity Buying Feedback Loop Strengthens…The VIX Sags Further.
Equity Pull-Backs, now universally viewed as Alpha Generating Opportunities, are Increasingly Shallow + Brief …fueled by endless Quantitative Easing [still at/near monthly highs] + 672 Global Interest Rate Cuts Since 2008.
*****************************
It is a classic Master [Central Bankers]/Slave [Portfolio Managers/Financial Actors] Relationship.
The Masters [Central Banks] Universally Endorse Relentlessly Higher Asset Prices…Solely Because They've "Bet The Global Economic Ranch" on QE and its Perceived Transmission Mechanisms.
Plus, The Masters Also Seem To Realize That Any Painful Asset Price Draw-Downs Will Expose the Liabilities of Master's Policies.
So The Messaging = Relentless. Regular Verbal Assurance from Master [weekly Fed-ECB Speak] overwhelm any logical and intuitive institutional money management push-back.
Of course the Compliant Slaves are rewarded with Historically High, Long-Only Risk-Adjusted Returns.
Slave Loyalty = Also Reinforced By The Passage of Time as, after 8+ Years of Broad Application, the Liquidity Super-Nova Seems Infinite.
*****************************
However eventually the Master/Slave relationship will decouple as Central Bank Tactics Meet Increasing, Data Based Intellectual Resistance and Less Institutional Tolerance.
The Parabolic Money Printing/Asset Purchases Continually Reach Higher Levels [40% of Global GDP in the first four months of 2017]…maybe even shaking Slave resolve…and questioning of the Infinite assumption cited above.
*****************************
In the past week, it appears, we may have even seen The Trigger for a Global Central Bank Policy Pivot.
A European Sponsored Central Bank Retreat Provided The Forum For Both Carney + Draghi To Indicate A Willingness To Reverse Current Course [that is backing away from more Quantitative Easing QE ].
And…In Canada/U.S…More Verbal Preparation For QE Reduction and Quantitative Tightening [QT] Transpired.
These may be Policy "Trial Balloons" Or Not…but it seems, by piercing this especially sensitive subject matter, that Central Bankers Continue To Mistakenly Believe That By Previewing Policy Reversal It Limits The Ultimate Negative Consequences.
*****************************
And so it seems Global Capital Markets accidentally stumbled upon that Precious Data Gem…Sought for 8+ years.
That is…A Numerical QE Limit ex: Japan…albeit well beyond levels originally envisioned.
With The Near Term Hook "Set" on QE/QT…The Slaves will not be pleased…wondering whether Master has betrayed them…as European Bond Yields lurched higher and Equity Prices Softened.
*****************************
Or Is The Hook Really "Set"?
The ECB leaked a conversation earlier that…because of Negative Market Reaction to European QE Taper Chatter…they are seeking to "Walk Back" Draghi's comments at the next opportunity.
Apparently Master Cannot Even Tolerate a 150 basis point European Equity Market Sell-Off?
Then…What is the Point of QE Tapering Blather Anyway?  That QE reduction, it seems, must be met with a Positive Equity Rally or Else Prior Remarks Will Be Rescinded.
What Master Does Not Seem To Realize = The Highly Elastic Relationship Between Marginal Monetary Tightening + Capital Market Reaction…Especially So With Fattened Central Bank Balance Sheets.
The Correlation Seems Very Close to 1.0…That Global QE Has Become So Large That It Simply Cannot Be Managed Downward Without A Dramatic Capital Markets Reaction. 
Of Course…After 8+ Years of Expanding The Global Money Supply…How Could A Contracting Money Supply Not Weigh On Capital Markets?
Master Will Need To Capitulate On This Point.  It Is So Obvious.
Disturbingly though, Master's Desire To Control Is Only Expanding and That Is Dangerous Because Eventually The Reaction Function Will Not = Master's Desired Outcome [i.e. More Liquidity + Downward Capital Markets].
What Then?  Has Master Modeled That Possibility?
The Logical Conclusion Is That Master Will Seek Even More Control…In Some Way.  Because Master = Not Giving Up Control Without A Fight.
*****************************
But Suppose I am mistaken about Master and The Insatiable Desire For Control.
Is It Even Possible That Master Voluntarily "Falls On The Monetary Sickle?"
Of Course Not.
Master will do all to preserve the hard earned Market Inflating Legacy [including an abrupt policy reversal when realizing QE Taper & QT = Not Market Friendly]…but, by then, The Resistance To Further Central Bank Actions Will Probably Have Stiffened.
Because when Markets Begin Going Down and People Start Losing Money…Real Questions About QE Will Finally Be Asked.
The Finger Pointing & Blame Game Then Follows. The Obvious/Legitimate Target = Global Central Banks.
They'll Get Ruthlessly Hammered By The Politicians While Their Flawed Monetary Policies will Slowly Be Exposed to the Currently Ignorant Masses.
*****************************
Worse Yet…Without Stimulus Economic Growth Will Likely Slow…And Global Debt Will Compound More Quickly.
Consider that even If Global Debt Levels Were Currently Frozen Then Global GDP Must Average Over 6% Annual Growth Just To Cover The Maintenance Cost of Debt With A Puny 2.50% Average Coupon = An Obviously Not Achievable and Ominous Growth Threshold.
*****************************
It Makes You Wonder…
How Sustainable Is An Economic Dogma/System Reliant On:
1. Shaking The QE Money Tree [for 8+ Years]
+
2. ZIRP/NIRP
+
3. Negative Sovereign Investment Yields [to shield deficit/debt producing governments]
+
4. Second Derivative Sovereign Debt Monetizations
…When The Global Monetary S-H-_-T "Hits The Fan?"
*****************************
Master's Control Of Slave = Finite…NOT Infinite
*****************************